(Yesterday) was spent at a Handi Quilter workshop at the Quilt Corner in Sparta,WI. Led by HQ rep Mary Beth, the class, although primarily 'aimed' at long arm stitchers, had helpful tips for Sweet 16 users, also. I went with the focus on the new(er) couching foot that HQ has come out with.
The piece hanging behind Mary Beth is from the earlier presentation. She is holding an example of her couching "play" using a worsted weight yarn.
The process is a simple one and has so many possibilities (my mind is going a million miles an hour!!!). She, then, showed a little purse with the same technique…………….
Another really fun piece using more of the novelty yarns. The accessory pack is 3 'feet' with varying sized holes that accommodate the possible yarn diameters/bulk.
Whether doing a solid yarn fill (as in the first photos) or a design overlay…….
using a variegated yarn, or……………..
feeding chenille strips as you quilt, your imagination is the only limitation! While teaching in Australia, Mary Beth acquired a piece begun by Aussie HQ rep, and internationally known quilter, Helen Godden, that was just the center design. Mary Beth continued and finished the background and this is the final result……
Pieces done by So. African gals were shown….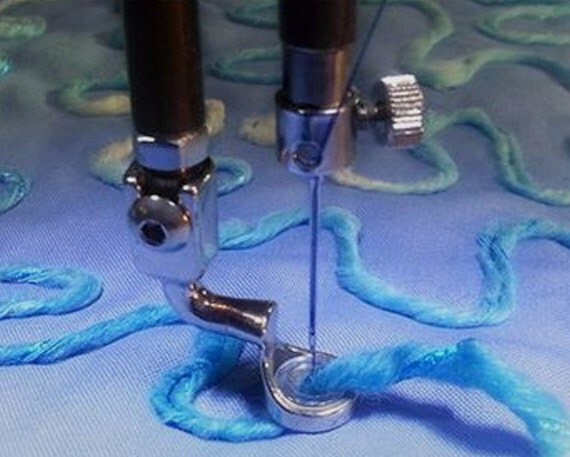 There are many DSM machines who have available similar feet (maybe utilizing the zig-zag stitch on their machine) so, just maybe, you are missing out on some fab embellishing that's right under your nose……hmmmm???? You will be seeing more on this one in the coming days/weeks I'm sure!!!!!!